Aperture 2 - workflow options
by Uzair Kharawala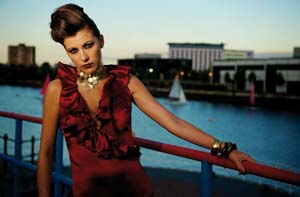 Aperture 2 is an all-in-one workflow software which allows photographers to work without having to go into various other programs during their workflow process. I've been using Aperture since it was released and now, with Aperture 2, I can progress, more or less, 100% of my workflow, all in one program. From import to output, Aperture 2 delivers a simple workflow solution for photographers, especially for someone like me who wants to work in a single program as much as possible. The quality of the output files is uncompromising. Currently I use the Nikon D3 and I love the files I get out of Aperture 2. The best feature is the 'non-destructive' way the images are processed so that they are always retained 'as shot' if I ever need to go back to my originals.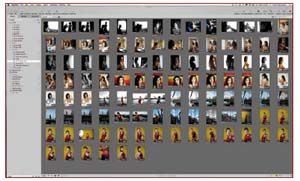 Above; The Aperture interface.
Here is a typical workflow for my wedding or portrait shooting:

Downloading/Importing/Renaming Images Importing images is quick and easy. Images can be imported from a camera, card-reader, DVD, hard drives or from iPhoto. At the point of importing, you can add copyright, keywords and other metadata, all in one go. From a wedding, I may need to import about 600–700 images and as soon as I start importing, I press 'P' which gives me the Quick Preview of the imported images and I can immediately start to cull images which are not required. I shoot with two camera bodies and the first thing I do is to sort the images in time order;I then rename them. I've created a 'Custom Name with Counter' for my images. All I do is select all the images and 'Batch Change' all the filenames which takes a few seconds or so.

Stacks is a handy tool which automatically groups images shot in a sequence; this helps browsing a wedding with lots of images, really speeding up the whole shoot. Once all the images have been selected to show case to the couple or client, I proceed to adjust/enhance the RAW files.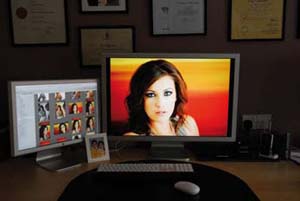 ABOVE : The dual 24"/30" Apple Cinema Displays in use for client viewing.

Adjusting/Enhancing Images

Once I've sorted and renamed my files, I'll go through them and apply any adjustments, needed. Simple tasks such as fixing white balance, enhancing colours, straightening, cropping and improving exposure are all done non-destructively. I've made pre-sets which I apply, on the fly. If there is a batch of images shot under the same lighting conditions, then only one image is adjusted and the settings applied to this image 'lifted' from it and 'stamped' on all the rest of the images in one go. Now I export them as 'versions' and saved as high-quality JPEGs.

Presenting Images to Clients

This is where Aperture 2 comes on to its own. When a client books an appointment to either come and see our work or to preview their wedding or portrait images, the images are shown as a slideshow with music, all available in Aperture 2. I have a dual-monitor set up on 30" and 23" Apple Cinema Displays. When I purchased the 30" ACD, I did get a bit of stick from Farzana (my wife) for spending as much on a monitor as the G5! However, the 30" ACD paid for itself within the first month, as clients purchased images which they wouldn't have if they had not seen them enlarged on a 30" display. They are just amazed with the quality of images shown to them. To fully take advantage of Aperture, you've got to work with a dual-monitor set-up. This really does speed up the workflow.

The Selection Process

This process takes around an hour or so for a wedding (300 images) and about 15–20 minutes for a portrait session (60 images). Multiple images are selected and displayed at the same time and the ones which the client likes are rated as 1-star. Once we've gone through all the images, I do a quick search for all 1-star rated images and work with just these.

Designing the Album

The album is created with the selected images. I've made my own custom sizes for the various albums, ie 10"x14", and so on. Designing each page individually is very easy; each album I create is unique, as there are no templates to be repeated. I have used album design software before and the problem I found was that whenever I had a layout in my mind, it took me ages to find it. Here in Aperture 2, I can very quickly create custom pages without any need for a degree in graphic design! Once all the pages are created, they can be exported as JPEG files and sent to the laboratory for printing or you can print in-house. Web galleries can also be created and uploaded to your .Mac account, all within Aperture.

As you can see from the above, I've not left Aperture for a single moment in my workflow. With Aperture 2, I can even clone and repair any image that requires it – if I really do need to take an image into Photoshop, I can do this directly from within Aperture 2 and make the changes. Aperture 2 automatically updates that image.

Need for Speed

Event photography is a big part of our business. When we needed to print images on-site at an event, we really did struggle to find a decent program on the Macintosh. However, all that changed when Aperture 2 arrived. We download, sort, rename, print contact sheets and then print the images from our dye-sub printer to whatever size we require. No matter how big or small the event is, whether it is a corporate ball for 100 couples or an equestrian event for 600 riders, Aperture 2 effortlessly and painlessly handles our workflow. Even tethered camera support is available, allowing the images to go straight from camera into Aperture 2.

Case Study: Cross Country Equestrian Event

At a very busy event we really do need our workflow to be at 100mph – 600 riders, four photographers shooting four different jumps, 6,000+ images...

This is where we make use of the 'Smart Folders' in Aperture 2. One Smart Folder is created for each photographer, the criterion usually used is the photographer's name as a keyword. Upon receiving the CompactFlash card from say 'Photographer 1', this is entered as a keyword and all images from that CF card are imported. These images will automatically show in the Smart Folder named 'Photographer 1'. Now to make contact sheets of all the images as small thumbnails so clients can see their images and select the ones they like. All the images are selected and then printed on a '9-up Contact Sheet'. This will place nine images on a 9"x6" print. Once the printing is done, we press '1' with all the images selected; this will rate all these selected images as '1' star. Now the next CF card comes from the same photographer, the images are imported with the keyword 'Photographer 1' and they all go into the Smart Folder of Photographer 1. Only the new images need to be printed as contact sheets, so a quick search of 'unrated' images is done; this shows up only those which are not rated '1' and are unrated. All these images are selected, printed and then rated as '1'. The same is applied to all the other photographers. A very sophisticated workflow, with a simple solution.

Indoor Equestrian Events

The winter season sees all the events go indoors. Show jumping and dressage events are the ones which we cover mostly. However, the lighting is not ideal and in many cases not sufficient. Tungsten lighting is usually used at these arenas which gives a very 'orangey' cast to the images. Once all the images are shot and imported into Aperture 2, we correct one of the images, lift the settings from it and can apply them to dozens, or even hundreds, of images at the same time with the 'Lift' and 'Stamp' tool, saving invaluable time and with no need to correct each and every image individually.

In my opinion, I don't think there is any other professional workflow application which offers such ease for managing, editing, sorting, previewing and outputting in a very user-friendly interface. There are many other powerful features which I have not even discussed, but which are there in Aperture 2 to make our workflow a lot easier.

Case Study: Corporate Event
Images of guests are shot as they arrive. Using Wi-Fi, the images are sent to a 'hot folder' which Aperture keeps a watch on and imports images directly into its library. This is real-time and as soon as the images are shot, the couple are requested to view them on the monitor. The Mac Book Pro has an additional 30" Apple display attached to it, on which only the full screen image is shown to the client without any palettes or the Aperture interface. We can also display multiple images to the client at the same time so they can choose which they like.
There are pre-set sizes saved under the 'print' window. If we need to print a contact sheet of nine images as thumbnails, we select the images and select the nine-up contact sheet or when a customer's 9"x6" print needs to be printed, only one image is selected and then the 9"x6" print option is clicked. It is a straight forward way of printing on-site.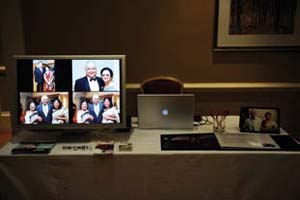 Find the Membership package for you: