Owen Barnes is a member of The Society of International Media & Press Photographers
Owen Barnes
Owen Barnes Photography
6 Mallards Court
Hangar Ruding
Watford
Hertfordshire
England
WD19 5BQ

Tel:- +44 208 421 6540
web address:-



Retired Photographer after many years of successful Freelancing with the Nationals in Fleet Street and many Publishers. Specialised in Soccer (in colour) supplying Comics, Magazines, Card Promos, Give-Aways and the like. I guarantee most of you collected my pictures at some time. Biggest mistake..did not file my pix or start a Library. No time-there was always another match to cover, another plane to catch. Need to go round the Pubishsers with the latest pix. Have pictures..must show & sell.etc. etc. etc. Seven years ago sold off all my gear- motorised Canons,lenses from 24-400mm, Rollies, Flash outfits etc. etc. Did not even own a Box Brownie and I did not know how to use the camera on my phone. Went onto a completely different type of business but in the end sold up & retired for good. A couple of months ago I saw a Brand New Canon SLR body with 3 Canon lenses etc for sale in a Charity shop window. So cheap I just could not resist so I am now back in Photography but not as a Pro. I just take pix for myself-only in Colour. I use a local colour photo shop who prints a contact sheet of my film and one 5x7 off every neg. I still love it especially the thrill of picking up my package from the print shop. I don't understand Digital or whatever and as long as Mr Kodak makes ColourPlus and Portra 400 I am a happy Bunny.



Monochrome Photography Competition is now open for entries
Enter your best monochrome images into this exciting photo competition and be in with a chance of winning an Olympus OM-D E-M1 Mark II Digital Camera with 12-40mm PRO Lens worth over £2,000!
Enter here: >>> http://thesocieties.net/monochrome/
---
Your perfect domain name is here! .photo / .pics
For a limited time, you can get .photo or .pics for just $9.99* for the first year!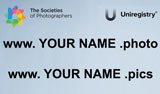 Find your perfect .photo/.pics >>> www.societies.photo/
Copyright © 2016 SIMPP. Created 09/08/2018 - Updated 19/11/2018 14:30:51 Last Modified: Monday, 19 November 2018